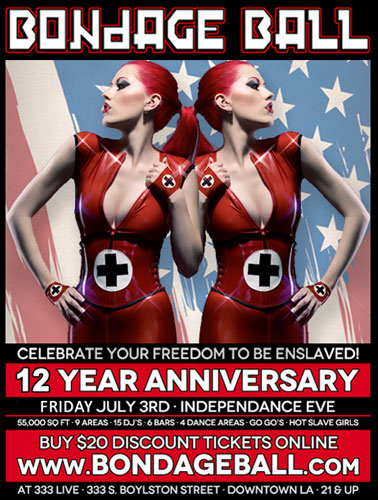 Kick off your Independence Day weekend properly: By celebrating your right to be enslaved! Its the 12th anniversary of the Bondage Ball. Hosted inside 333 Live, Los Angeles, California, 90017 (over 55,000 square feet!)  tickets are $20 (when purchased online).  Please remember to bring your IDs as no one under 21 is allowed in(no exceptions!)  There are two halves to the venue, and we
encourage you to explore both of them.  One side features a grand
ballroom and performance stage, surrounded by a balcony with plenty
of seating and a VIP "Gold Room" above the main floor.  The other
half has more of an underground, warehouse feel with multiple
rooms and plenty of dark corners, along with a huge and amazing
outdoor patio.  Make sure you experience everything this awesome
venue has to offer!  If you can't find the pathway to the other
side, just ask security or a staff member. 
LA's Top Underground Club's are coming together to Celebrate Bondage Ball's 12 Year Anniversary
CLUBS JOINING TO CELEBRATE
Fashion & Fetish Ball / Batcave / Noize Faktory
Bizarre / Blue Mondays / Helter Skelter / Perversion
Evil Club Empire / Fetish Apocalypse / Clockwork Orange
? Intl. Fetish Super Model ?
M O S H
COMBICHRIST's
Andy LapLegua
(exclusive DJ set)
SoundSEX
(exclusive DJ set)
? International Spintress ?
DJ HEAVYGRINDER
Penthouse Pet
ANGELA SOMMERS
Intl. Fetish Model & Video Star
JEWELL MARCEAU
Mistress of All that is Hard
Metal Sanaz
KinkPornStar
AIDEN STARR
Extreme Fetishist
Sasha Knox
Mistress Alexia Jordon (Denver)
Rekka
Mistress Isabella Sinclaire
BO TOXICUH
SIMON BLAISE
Kinkstar
CHROMEGIRL
GO-GO ANGELI
KLUB KID STAR
Ernie Omega
CHARLY HATRIK
GLENN HETRICK
Star of SyFy's Face Off
CLEVE HALL
Star of SyFy's MonsterMan
CARISSA WHITE
JENIPURR
Mistress
EDEN WINTER
Penthouse Photographer
TOMMY O
WASTELAND WEEKEND
BATCAVE
NOISE FAKTORY
VAMPS & TRAMPS
Tommy O's
SPANK & SHINE STATION
by The Decameron
MISTRESS LUCY & MISTRESS IRIS
+ GRACE MARIE
+ REBECCA KNOX
+ PRINCESS MARX
DJ's
Franck H-Bomb
Rx. Slaughter
Matthew Grim
Danny Graver
Bruce Perdew
Dj Madin
Dj Black Eyed
Klaus Razor
+ more TBA
Exotic Dungeon Furniture by
Downtown Willy
DUNGEONS:
IVY MANOR
THE DECAMERON
Have fun pervs.