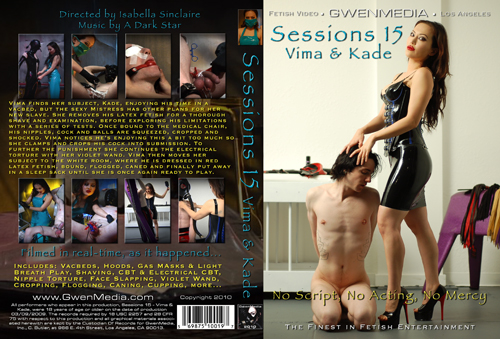 Directed by ISabella Sinclaire, GwenMedia is pleased to announce the release of our latest DVD, Sessions 15 – Vima & Kade, starring Vima Sophia and Deviant Kade, available exclusively at the GwenMedia.com store.
In this latest installment of the popular Sessions series, Vima finds her subject, Kade, enjoying his time in a vacbed, but the sexy Mistress has other plans for her new slave. She removes his latex fetish for a thorough shave and examination, before exploring his limitations
with a series of tests. Once bound to the medical chair, his nipples, cock and balls are squeezed, cropped and shocked. Vima notices he's enjoying this a bit too much so she clamps and crops his cock into submission. To further the punishment she continues the electrical torture with her violet wand. Vima then moves her subject to the white room, where he is dressed in red latex fetish, bound, flogged, caned and finally put away in a sleep sack until she is once again ready to play.
Sessions 15 features: Includes: Vacbeds, Hoods, Gas Masks & Light Breath Play, Shaving, CBT & Electrical CBT, Nipple Torture, Face Slapping, Violet Wand, Cropping, Flogging, Caning, Cupping, and more…
Sessions 15 also features a new original score by A Dark Star, the electronica project of GwenMedia's Daniel Sest. Select music from the film will be posted soon.
Watch the Sessions 15 Trailer HERE.