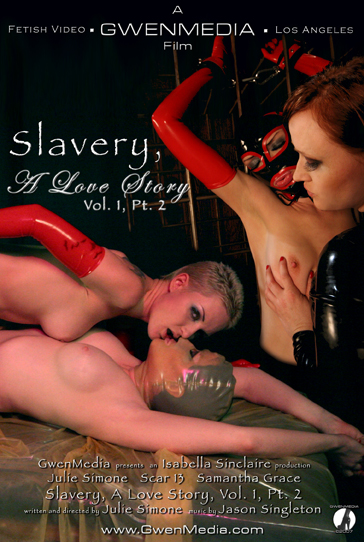 Just published on AVN.com is a great review on our recent release, Slavery, A Love Story, Vol.1, Pt.1. which received a AAA 1/2 rating. Darklady writes, "Jealousy is such an intimacy killer. That's a lesson that adoring, but territorial, slave Scar 13 must learn the hard way after Mistress Julie Simone brings a pretty new slave home.
Scar 13's insecurity and jealousy smolders as she plucks new slave Samantha Grace's eyebrows. Like cats – which the two role play during a bondage, milk and face-mounted dildo scene – the slaves must figure out how to live together or die trying.
Simone looks beautiful in her moodily lit environment. All three women are amazingly erotic during a gleaming three-way foot fetish sequence.
Things aren't so lovey-dovey once Scar 13 gets Grace alone and totally helpless, which leads to the cliffhanger ending."
Julie Simone fans note: The prequel, Slavery, A Love Story, Vol.1, Pt.1 is currently in post-production.