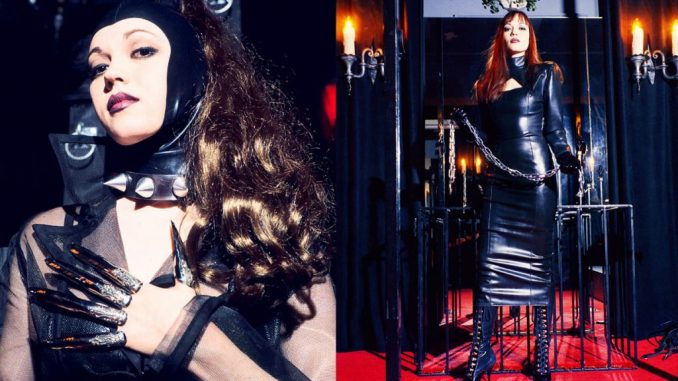 SM/Art Event, Saturday 12th September 2020
I'm excited to announce that I will be honored at an event I will be attending outside of Paris in September by the esteemed photographer, Gerard Musy, who I had the pleasure of shooting with early in my career
in 1993-94. Gerard has been hosting similar events for a few years and
the previous events sold out quickly so you can book in advance for
SM/Art 2020. 
Words from Gerard regarding the event.
This year we are honoured to have a very special guest dominatrix coming especially from Los Angeles: the legendary Mistress Isabella Sinclaire.
This is a small and very exclusive affair (40 people max), with international guests gathered in the historical and peaceful grounds of a country house, in the middle of wonderful typical French countryside. It is ideal to continue your journey afterwards to the Burgundy or Champagne or the Loire Castles regions. You can also stay in Paris, which is just an hour away by train or car.
A candlelit dinner is served in the ancient chapel founded in 1174. It is the most atmospheric setting you can imagine! After dinner, two slideshows are usually presented. This year, the first will feature my new images of Mistress Isabella Sinclaire. The second show is traditionally Beyond (Lustre). This is the only place where you can watch it.
After the Art shows, BDSM play will follow…
All of you will be presented with three slideshows: the DVD/book of Lustre + Beyond (Lustre) +theIsabella Sinclaire series.
Also, with a deluxe ticket… Just once a year, The SM/Art Event gives you the unique opportunity to acquire a picture of mine directly through me. (Otherwise, my work is only available through the exclusive Woerdehoff gallery in Paris at double the price!) The photographs are from the Lustre series. They are vintage gelatin silver prints from my own collection. They are timeless and the price is very affordable.
Contact me now to arrange booking for The SM/Art Event 2020 on gerardmusy@gmail.com
It will be my pleasure to welcome you.
Best wishes,
Gérard
gerardmusy.com Lustre Fetish Nightlife | gerardmusy