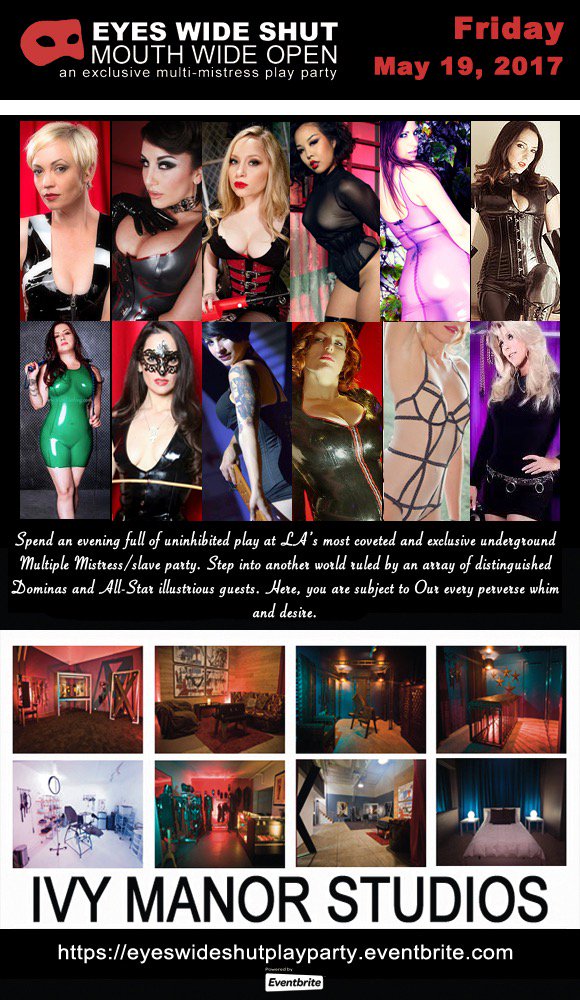 Isabella is going to be a busy Mistress next weekend, in addition to attending DomCon LA (see previous post) she is also hosting LA's hottest Multi-Mistress Play Party, "Eyes Wide Shut", at the Ivy Manor Studio in downtown LA.  This will be the place to be on Friday night. Get your tickets early, a we will definitely sell out.
Everyone who attends one of these parties raves about how much fun they are. Come check it out for yourself.
Date: Friday, May 19, 2017
Time: 9:00PM — 1:00AM
Location: Ivy Manor Studio, DTLA
More event information, including ticketing, FAQ, etc. can be found here.
Mistresses who will be attending:
International Mistress Isabella Sinclaire
Mistress Jewell Marceau
Kink Goddess Aiden Starr
Mistress AnLi
Mistress Eden Winter
Stella Liberty
Mistress Sheri Darling
Princess Marx
Mistress Bettie Bondage
Lady Grace Marie
Mistress Layla
Mistress Tamara