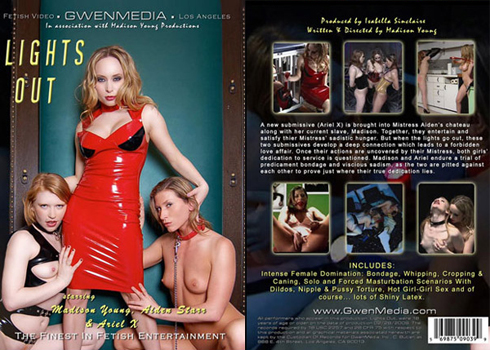 Madison Young is coming again soon, starring in our next DVD release, The Ivy Manor Slaves 4, The Bodyguards. To celebrate, this week we're featuring her last film with GwenMedia, Lights Out, also starring Aiden Star and Ariel X.
A new submissive (Ariel X) is brought into Mistress Aiden's chateau along with her current slave, Madison. Together, they entertain and satisfy their Mistress sadistic hunger. But when the lights go out, these two submissives develop a deep connection which leads to forbidden love affair. Once their actions are uncovered by their Mistress, both girls' dedication to service is questioned. Madison and Ariel endure a trial of predicament bondage and vicious sadism, as the two are pitted against each other to prove just where their true dedication lies.
Watch the trailer HERE.
REVIEW from AEBN:
If only we could all be as lucky as Mistress Aiden Starr. Having finished her breakfast, she summons her beautiful, naked, redheaded slave girl, Madison Young, and instructs her to wash her plate. While Madison dons rubber opera gloves to do the dishes, Mistress Aiden administers a whipping to her slave's firm, bare, already reddened ass. It's hard to say what's hotter: the redhead bent over the sink, her legs sculpted by sexy black stilettos, or the blonde Domme whose ample breasts jiggle beautifully with every stroke of the whip. The Mistress orders her not to cum until she has asked permission, but once Madison begs, she is denied orgasm until that plate is clean. It's just an ordinary day at Chez Aiden Starr until Madison fetches the mail and there's a letter from a hopeful service submissive named Ariel X. Mistress Aiden begins fondling herself at the mere thought of a new slave in the house, and as she gets more worked up, she tells Madison to get a bag together because they're going to have a new slave in the house. Madison gets to it, clearly also aroused at the thought. Mistress Aiden is so excited that it doesn't take her long to finger her own clit to orgasm. This is how Lights Out starts off with a bang, wasting no time before getting to the good stuff.
Ariel arrives and Madison briefs the new addition on the protocol. After Ariel disrobes at the front door, Madison puts a collar on her and Ariel is panting with arousal. The two subs make a gorgeous pair, almost sister-like: both are curvy yet lean and small-breasted, both have high cheekbones and an angular beauty like that of fashion models (Ariel resembles Gisele Bundchen). But where Madison is copper-haired and pale as bone china, Ariel – formerly a brunette – is now golden from skin to hair. Mistress Aiden is fortunate to have such beautiful slaves. Madison leads a crawling Ariel down the stairs to meet her new Domme. Once Madison has presented the new submissive to the Mistress, she leaves them to get acquainted. Mistress Aiden tests Ariel's pain tolerance with a whipping and some fairly painful-looking tit punishment, makes her squat uncomfortably with her ass out as far as it goes, and then gives her a few hard whacks with a leather paddle. Then the Mistress has her new slave stand and bend so that she can spank the backs of her thighs. But even the harsh Mistress Aiden isn't all about pain – she removes Ariel's nipple clamps to have a taste of the goods.
Satisfied with her new sub's ability to handle the rough stuff, Mistress Aiden takes Ariel to the bedroom and cuffs her wrists and ankles together. Then comes the rubber hood and it's into the cage with her, face up so the Mistress can fuck her mouth with her fingers and a pretty red dildo that matches Aiden's dress. Mistress Aiden instructs Ariel to turn around so she can toy-fuck her pussy as well. Once it is determined that Ariel has a pussy that's a bit loose for her new owner's liking, Aiden informs her slave that she's going to learn how to close her legs and be used for her true purpose as a pain slut. As she did with Madison, Aiden makes Ariel beg for permission to cum and show appreciation for it. Ariel proves to be much more vocal during orgasm than Madison was. Afterward, Ariel must lick the dildo clean of her "dirty little whore cum." We briefly get to spy on Ariel while she cleans herself off afterward.
At night, the slaves sleep in rubber sleeping bags on floor mats, wearing only rubber stockings and matching garter belts. Madison gets two flashlights and tells Ariel that when the lights are out, they don't have to follow protocol. It's time to get to know the subs in sexy flashbacks that show their introductions to the lifestyle. First is Ariel, who is seen reading a book on BDSM that she found in a used bookstore. In a room decorated with photos that show Ariel was already into women, she grows more aroused by the second as she reads. Soon she decides to put on a rubber halter dress, which means rubbing her gorgeous body down with lube first. With the dress on, she straps a ball gag into her mouth. Dressed in her fetish gear, she masturbates to an earth-shattering climax, even spanking her own ass to ramp up her excitement. Next we watch flashback-Madison, wearing a hipster-style polka-dot dress, getting worked up over a bondage porn DVD cover as Madison narrates. It turns out she was having trouble getting off, so a friend suggested porn. The movie she picked starred Aiden, and Madison was so hooked on the blonde Domme that she found her online and emailed her. After months of begging and training, Aiden took Madison on as her full-time submissive. That was two years ago. The voiceover ends and we watch Madison masturbating in front of her laptop, clearly having recovered from her orgasmic difficulties. Now that we know what brought these hot girls here, we get to see them taking advantage of "free time" by playing with each other. This isn't the BDSM play that happens in the daytime, perhaps because they can't wake the Mistress, but it's undeniably erotic to watch them fondling and licking each other, including a little foot action. What they don't know is that they are under surveillance and apparently Madison was wrong about not having to follow protocol during lights-out time.
Mistress Aiden wakes the two slaves and orders them to the punishment room. There they stand, bound to straps attached to the ceiling, wearing only underbust corsets. Aiden is displeased that they decided they had any right to personal pleasure while under her service. Because they didn't think of their Mistress's pleasure, they must prove their loyalty by suffering the painful consequences. Mistress Aiden clamps both their pussies and their nipples, connecting the two of them by chains. If they love her enough, the clamps won't come off when she pushes the girls apart – a rather unreasonable test of loyalty, but then a Domme has her prerogative. What will the punishment be? You'll have to watch to the end to find out if Aiden shows mercy for breaking the rules.
The excellent Gwen Media has given us another thrillingly erotic piece with Lights Out. Madison Young is not only a gorgeous girl and a good performer, but she's also a promising young director. This is her eighth time behind the camera and she gets better (and kinkier) with each movie.