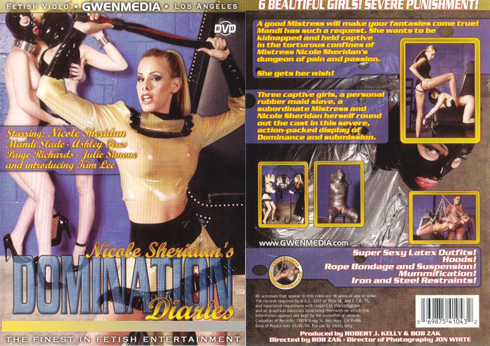 This week we bring you Nicole Sheridan's Domination Diaries Part 1. In this initial film from the series, 'A good Mistress will make your fantasies come true!
Mandi has such a request. She wants to be kidnapped and held captive in the torturous confines of Mistress Nicole Sheridan's dungeon of pain and passion. Well… she gets her wish!
Mandi receives the surprise of her life as she is snatched off of the street by two of Nicole's slaves. Cuffs are secured to her ankles and wrists and a rubber sack is pulled over her head as she is dragged into the dungeon and chained to the floor. As the slaves exit, they pull the sack off of her head, revealing the other inhabitants of the dungeon. She sees a girl to the left, bound head to toe in heavy duty duct tape. To the right, is a sobbing blonde beauty dangling overhead in a severe rope suspension. What will be in store for her? Her distressed thoughts are running wild!
Three captive girls, a personal rubber maid slave, a subordinate Mistress and Nicole Sheridan herself round out the cast in this severe, action-packed display of dominance and submission. Six beautiful girls, super sexy latex outfits, hoods, severe punishment, rope bondage and suspension! Mummification, iron and steel restraints! Cages and other unique implements of restraint!
Starring: Nicole Sheridan, Julie Simone, Ashley Fires, Paige Richards, Mandi Slade, Kim Lee