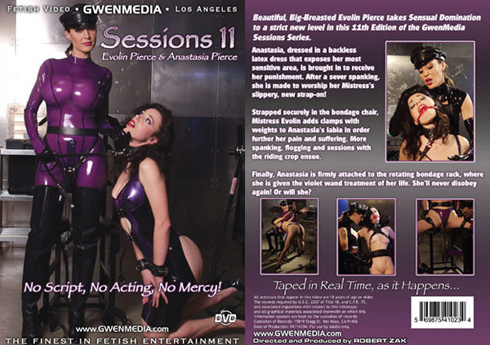 Congratulations to Anastasia Pierce for her 2011 AVN Award! Here she is, along with Evolin Pierce in our member requested, full length fetish film, Sessions 11.
Beautiful, Big-Breasted Evolin Pierce takes sensual domination to a strict new level in this 11th edition of the GwenMedia Sessions Series. Anastasia, dressed in a backless latex dress that exposes her most sensitive area, is brought in to receive her punishment. After a sever spanking, she is made to worship her Mistress's slippery, new strap-on!
Strapped securely in the bondage chair, Mistress Evolin adds clamps with weights to Anastasia's labia in order further her pain and suffering. More spanking, flogging and sessions with the riding crop ensue.
Finally, Anastasia is firmly attached to the rotating bondage rack, where she is given the violet wand treatment of her life. She'll never disobey again! Or will she?
Sessions 11 is also available on DVD from the GwenMedia.com store and on Pay Per View at the GwenMedia Theater.