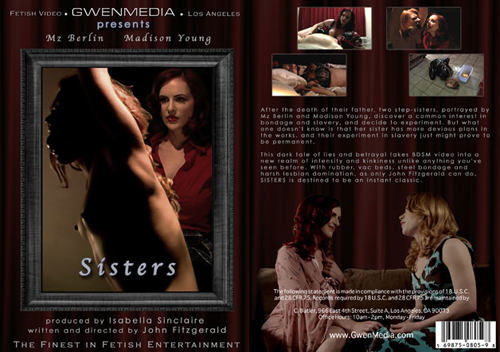 This week we bring to the member's area John Fitzgerald's most recent fetish thriller, Sisters, in full length.
After the death of their father, two step-sisters, portrayed by Mz Berlin and Madison Young, discover a common interest in bondage and slavery, and decide to experiment. But what one doesn't know is that her sister has more devious plans in the works, and their experiment in slavery just might prove to be permanent.
This dark tale of lies and betrayal takes BDSM video into a new realm of intensity and kinkiness unlike anything you've seen before. With rubber, vac beds, steel bondage and harsh lesbian domination, as only John Fitzgerald can do, SISTERS is an instant classic and already a GwenMedia best-seller.
Written and Directed by John Fitzgerald, with an Orginal Score by Rich Brigham, Sisters is also available on DVD and still on sale during our 2008 Year End Sales Event, now extended for a limited time!
Watch the Windows Media TRAILER
Watch the iPOD TRAILER