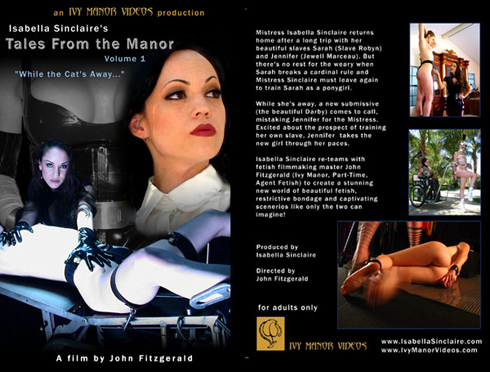 This month we bring you a mini-series from The Ivy Manor, beginning with Tales From The Manor Pt. 1 – While the Cat's Away, by John Fitzgerald. This series presents a stunning new world of beautiful fetish, restrictive bondage and captivating scenarios.
In the film, Mistress Isabella Sinclaire returns home after a long trip with her beautiful slaves Sarah (Slave Robyn) and Jennifer (Jewell Marceau). But there's no rest for the weary when Sarah breaks a cardinal rule and Mistress Sinclaire must leave again to train Sarah as a ponygirl.
While she's away, a new submissive (the beautiful Darby) comes to call, mistaking Jennifer for the Mistress. Excited about the prospect of training her own slave, Jennifer takes the new girl through her paces.