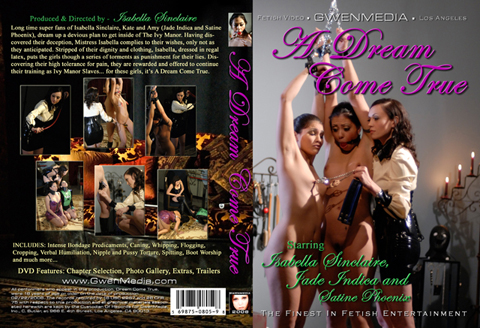 Long time super fans of Isabella Sinclaire, Kate and Amy (Jade Indica and Satine Phoenix), dream up a devious plan to get inside of The Ivy Manor. Having discovered their deception, Mistress Isabella complies to their wishes, only not as they anticipated. Stripped of their dignity and clothing, Isabella, dressed in regal latex, puts the girls though a series of torments as punishment for their lies. Discovering their high tolerance for pain, they are rewarded and offered to continue their training as Ivy Manor Slaves… for these girls, it's A Dream Come True.
INCLUDES: Intense Bondage Predicaments, Caning, Whipping, Flogging, Cropping, Verbal Humiliation, Nipple and Pussy Torture, Spitting, Boot Worship and much more.
Watch the iPod Trailer.
Watch the Windows Trailer.
Visit the GwenMedia.com store and Order your copy now!