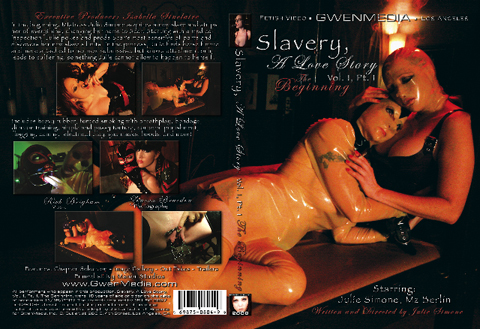 Written & Directed by Julie Simone
Starring Julie Simone & Mz Berlin
Music by Rich Brigham (The Portal, Diary of a Rubber Girl)
In the beginning, MIstress Julie Simone acquires a new slave (Berlin)  and strips her of everything, changing her name to Scar. Starting  with a medical inspection, Julie pokes and prods Scar's most
sensitive of parts and discovers her new slave's limits. In the process, Julie finds herself more and more attached to her new submissive, but knows attachment only leads to suffering, something Julie cannot allow to happen to herself.
INCLUDES: heavy rubber, forced smoking with breathplay, bondage, dilation training, nipple and pussy torture, corporal punishment, flogging, caning,  electrical play, gas masks, hoods, and more!
FEATURES: Chapter Selection – Image Gallery – Out Takes – Trailers
Order your copy of Slavery Pt. 1 today at the GwenMedia.com Store and browse the catalog to take advantage of our Summer Sale where most ever DVD is over 30% off (excluding the 2 newest GwenMedia DVDs and John Fitzgerald's Undercover).