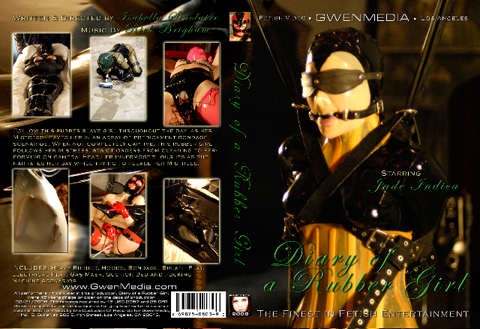 As we replace the full length movies that were already in the member's area with new and higher quality versions, we bring you a new film, Diary of a Rubber Girl, starring Jade Indica. In "Diary," we follow a rubber slave girl throughout the day, as her Mistress leaves her in an array of predicament bondage scenarios. When not completely captive, she follows her Mistress' strict orders from cleaning to performing on camera. Hear her innermost thoughts as she narrates her day while trying to please her Mistress.
INCLUDES: Heavy Rubber, Hoods, Bondage, Breath Play, Electrical Play, Gas Mask, Suction Bed and Fucking Machine scenarios.
Diary of a Rubber Girl is also available on DVD at the GwenMedia.com store and includes lots of DVD extras, including the rubber girl's video she made for her mistress… when you see the movie, you'll know what we're talking about!!
Note there's a link on the new Streaming page to view all the older flash files, until they are replaced.
Enjoy!