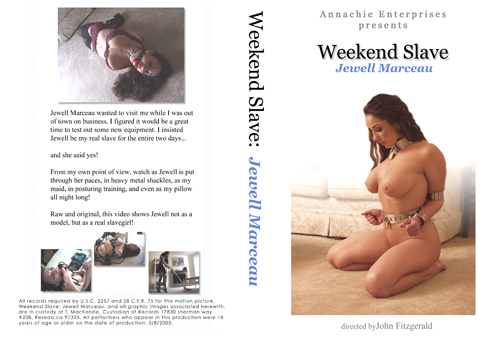 Written & Directed by John Fitzgerald, Starring Jewell Marceau
If you've ever wondered what it would be like to have Jewell Marceau as your personal slave, now is your chance in this P.O.V. movie by the AVN Award winning, John Fitzgerald, Weekend Slave – Jewell Marceau.
In this story, Jewell Marceau wanted to visit John Fitzgerald while he was out of town on business. He figured it would be a great time to test out some new equipment. He insisted Jewell be his real slave for the entire two days…
…and she said yes!
From John's point of view, watch as Jewell is put through her paces, in heavy metal shackles, as his maid, in posturing training, and even as his pillow all night long!
Raw and original, this video shows Jewell not as a model, but as a real slavegirl!