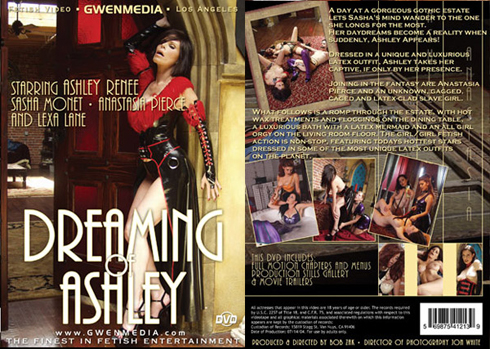 Synopsis: All Girl Fetish and Hardcore Sex! A day at a gorgeous gothic estate lets Sasha's mind wander to the one she longs for the most.
Dressed in a unique and luxurious latex outfit, Ashley takes her captive, if only by her presence. Joining in the fantasy are Anastasia Pierce and an unknown, gagged, caged and latex-clad slave girl.
What follows is a romp through the estate, with hot wax treatments and floggings on the dining table, a luxurious bath with a latex mermaid and an all girl orgy on the living room floor. The girl/girl fetish action is non-stop, featuring todays hottest stars dressed in some of the most unique latex outfits on the planet.
Cast: Ashley Renee, Anastasia Pierce and Sasha Monet
Running Time:60 minutes