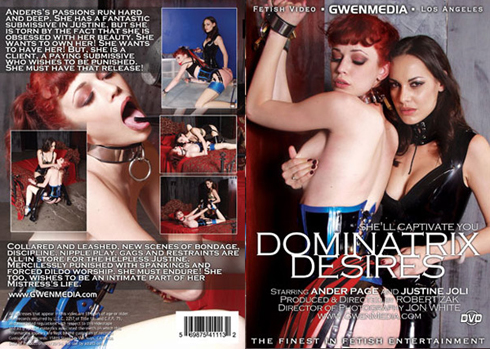 Ander's passions run hard and deep. She has a fantastic submissive in Justine, but she is torn by the fact that she is obsessed with her beauty. She wants to own her! She wants to have her! But, she is a client, a paying submissive who wishes to be punished. She must have that release!
Collared and leashed, new scenes of bondage, discipline, nipple play, gags and restraints are all in store for the helpless Justine. Mercilessly punished with spankings and forced dildo worship, she must endure! She too, wishes to be an intimate part of her Mistress's life.
Having dominated her captive for the better part of the evening, Ander decides that she must now act on her own desires. She unlocks Justine from her bonds and removes her gag. They lie on the bed, pull the latex sheeting over top and…
Starring: Justine Joli, Ander Page
Dominatrix Desires is also available on DVD at The GwenMedia.com Store.