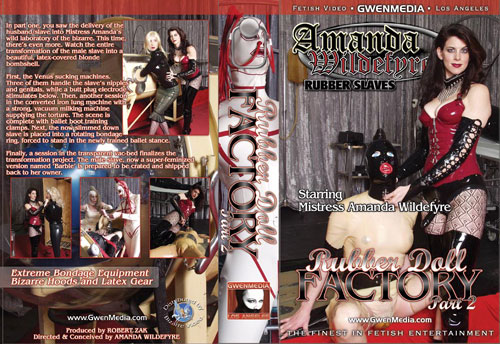 Up this week in the members area is Prt 2 of Amanda Wildefyre's Rubber Doll Factory.
In part one, you saw the delivery of the husband/slave into Mistress Amanda's wild laboratory of the bizarre. This time, there's even more. Watch the entire transformation of the male slave into a beautiful, latex-covered blonde bombshell.
First, the Venus sucking machines. Three of them handle the slave's nipples and genitals, while a butt plug electrode stimulates below. Then, another session in the converted iron lung machine with a strong, vacuum milking machine supplying the torture. The scene is complete with ballet boot training clamps.
Finally, the now slimmed down slave is placed into a rotating bondage ring, forced to stand in the newly trained ballet stance. Then, a session in the transparent vac-bed finalizes the transformation project. The male slave, now a super-feminized version named 'barbie' is prepared to be crated and shipped back to her owner. Extreme bondage equipment and scenarios and bizarre latex gear.
Starring: Amanda Wildefyre, Charger Pony and Rubber Slave
Take advantage of the final week of our year end holiday sale and buy Rubber Doll Factory Part 2 at our on line store now!