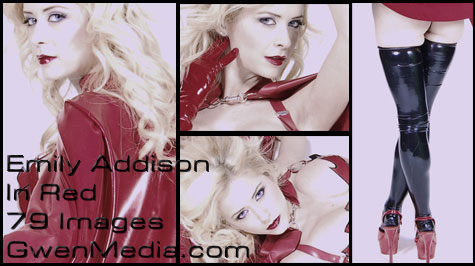 GwenMedia welcomes new GwenMedia Girl, Emily Addison, with an action packed update. First we see Emily shining brilliantly in holiday inspired red latex. As she poses and rubs the lube across her latex, she can't help but become aroused. Soon she's on the floor in more provocative poses, then removes her latex stockings for the foot and high heel fetishists in the audience.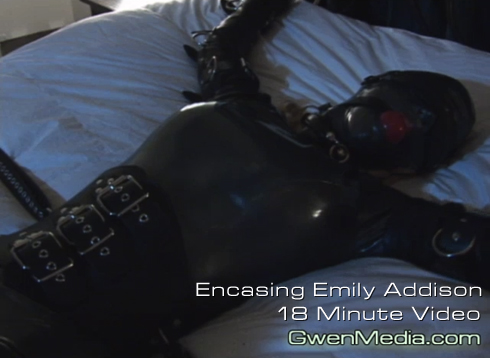 Also this week, we bring you an 18 minute GwenMedia Vignette with our new GwenMedia Girl. In Encasing Emily Addison, we find our blonde bombshell alone in bed exploring herself in a platinum latex catsuit. Mysteriously, and little by little, Emily finds herself being bound, one appendage after the other, then hooded and gaggeg. Unfortunately, she can no longer touch herself, but isn't it fun to watch her wiggle!?
Speaking of Wiggle… Our lovely Isabella Sinclaire gives Emily the nickname 'Wiggles' in another vignette featuring the new GwenMedia Girl, which is also an update this week on Domination On Line, Sinclaire's membership site. If you can't get enough of Emily, find her there, more exposed and under more torment by the hand of Mistress Isabella.
Next Update: (As promised) The Perils of Gwen Part 2