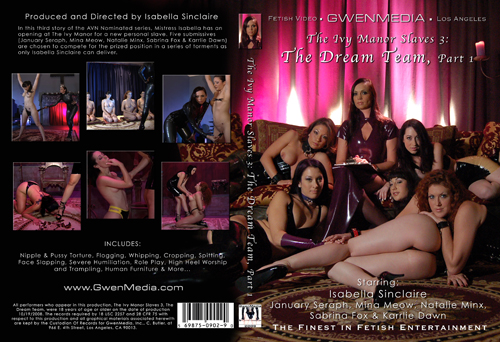 This week, and again by member request, we bring you our 2010 AVN Award Winning Film, The Ivy Manor Slaves 3: The Dream Team, Part 1.
Labeled as "A whipping fetishist's delight," in this third story of the Ivy Manor Slaves series, Mistress Isabella has an opening at The Ivy Manor for a new personal slave. Five submissives (January Seraph, Mina Meow, Natalie Minx, Sabrina Fox & Karrlie Dawn) are chosen to compete for the prized position in a series of torments as only Isabella Sinclaire can deliver. In part 1 of this 2 part story, Isabella displays her whipping skills on each beauty, then verbally assaults them each in a round of humiliation.
INCLUDES: Nipple & Pussy Torture, Flogging, Whipping, Cropping, Spitting, Face Slapping, Severe Humiliation, Role Play, High Heel Worship and Trampling, Human Furniture & More…
The Dream Team, Part 1 and the concluding The Dream Team, Part 2 are both for sale at the GwenMedia.com store.
Watch the trailer HERE.