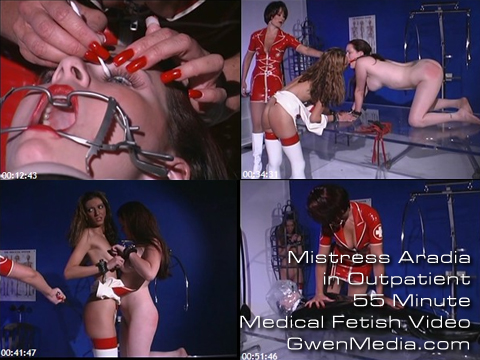 Where is she? Why is she in this slime filled tube? Why is she being held captive? These are all questions running through the mind of the innocent submissive in our 55 minute medical fetish film Outpatient, also available on DVD.
After securing her with layers of saran wrap, Mistress Aradia and her nurse assistant, Racquel, start right in to work on the captive beauty. She is then moved to a clear Plexiglass box where she is again bound. A cupping set and violet wand are used to further train the defiant wench.
Nurse Racquel is not performing as expected, so Mistress Aradia decides that she will join in on the reception end of the punishment. Both are flooged and spanked with no mercy!
Tired of dealing with the two unruly slaves, Mistress Aradia puts them into their respective captivity chambers for the night. One in a steel gibbet cage, the other in a latex body bag and clear plastic hood.
Starring: Mistress Aradia, Racquel Marquise and Kristiana Fluer.
Watch a free clip HERE. The full movie is in the streaming movie area, member's enjoy!