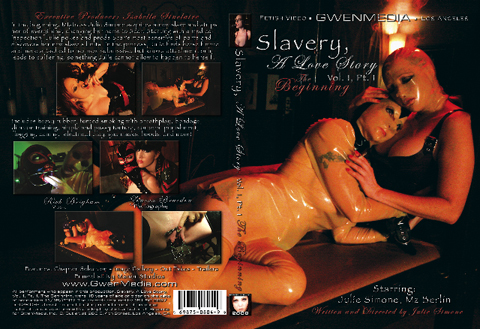 The full length GwenMedia movies are back! Members, thanks for your patience during our transition to flash. If you've watched a movie in the member's area recently, you'll notice we've transferred them all to the convenient flash player, which most computers come with (if yours did not, download HERE).
This week, we bring you the newly AVN Award nominated Slavery, A Love Story, Vol.1, Pt.1, The Beginning, written and directed by Julie Simone.
In the beginning, MIstress Julie Simone acquires a new slave (Berlin) and strips her of everything, changing her name to Scar. Starting with a medical inspection, Julie pokes and prods Scar's most sensitive of parts and discovers her new slave's limits. In the process, Julie finds herself more and more attached to her new submissive, but knows attachment only leads to suffering, something Julie cannot allow to happen to herself.
INCLUDES: heavy rubber, forced smoking with breathplay, bondage, dilation training, nipple and pussy torture, corporal punishment, flogging, caning,  electrical play, gas masks, hoods, and more!
Take advantage of our holiday sale and buy Slavery, The Beginning at the GwenMedia.com store.
Next movie to come… As promised – Rubber Doll Factory, Pt. 2