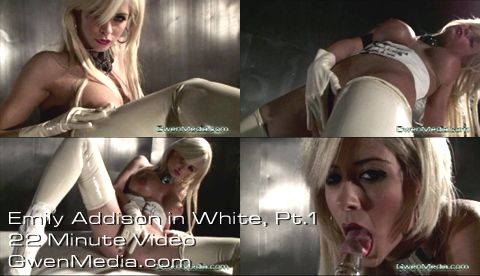 GwenMedia's sexy cover girl, Emily Addison, returns in part 1 of 2 of this very erotic 44 minute latex fetish video.
Dressed in white latex, Emily enters the stark silver and white room, dancing about the bondage table.  With slow movements, her excitement grows and she begins to enjoy her body. She touches her ancles, to feel the slick rubber, and glides her fingers up her legs, inside of her theighs, across her pussy and up over her tight stomach to her breasts.
Emily's excitement escalates, as she continues to fondle her breasts. She spits on her nipples and rubs the juice in, only adding to her ecstasy.
Now on top of the bondage table, Emily's focus of excitement changes to her inner theighs and pussy. With her latex covered hand, she explores herself, first with one, then with two fingers. Being a bit of a voyer, she stares at you to make sure you're watching.
Our blonde bombshell, now on all fours, crawls arcoss the bondage table and unsheathes her glass dildo. She prepares the impliment by spitting on it, licking it and inserting it in her mouth. Once the glass phallus is glistening with her saliva, Emily spreads her legs wide and rubs the clear object against her awaiting pussy.
Watch a sample clip HERE.