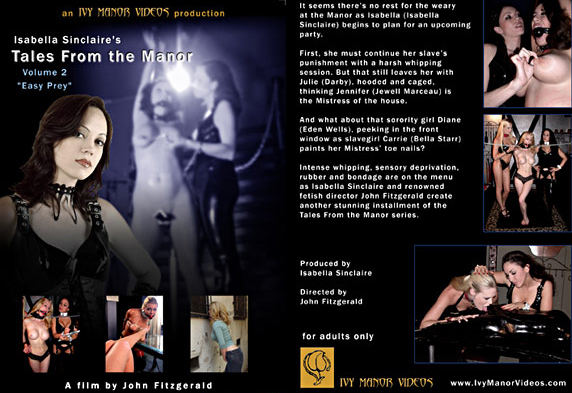 This week, we continue to celebrate The Ivy Manor with John Fitzgerald's, Tales From The Manor 2 – Easy Prey.
It seems there's no rest for the weary at the Manor as Isabella (Isabella Sinclaire) begins to plan for an upcoming party. First, she must continue her slave's punishment with a harsh whipping session. Meanwhile, Julie (Darby) is hooded and caged under the impression that Jennifer (Jewell Marceau) is the Mistress of the house. And what about that sorority girl Diane (Eden Wells), peeking in the front window as slave-girl Carrie (Bella Starr) paints her Mistress' toe nails?
Intense whipping, sensory deprivation, rubber and bondage are on the menu as Isabella Sinclaire and renowned fetish director John Fitzgerald create another stunning installment of the Tales From the Manor series.