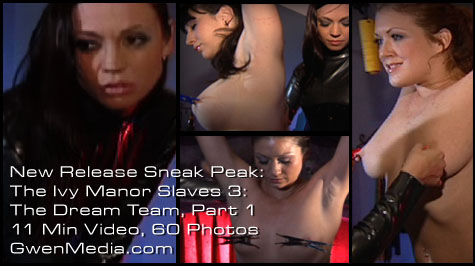 Coming later this week to the GwenMedia.com store will be our new DVD, The Ivy Manor Slaves 3: The Dream Team, Part 1. Member's, here is your sneak peek at a scene from the film which is part 1 of 2 in the third Ivy Manor Slaves series.
In this scene, you will see the finale whipping of 5 slave girls (January Seraph, Mina Meow, Natalie Minx, Karrlie Dawn, and Sabrina Fox) competing to get the top slave seat at Isabella Sinclaire's Ivy Manor, as her personal slave. Each gets to choose which whip they are tormented with, leaving the last slave with the worst of the bunch… the single tail.
This update also features 80 still images from this DVD release, which will go on sale later this week.