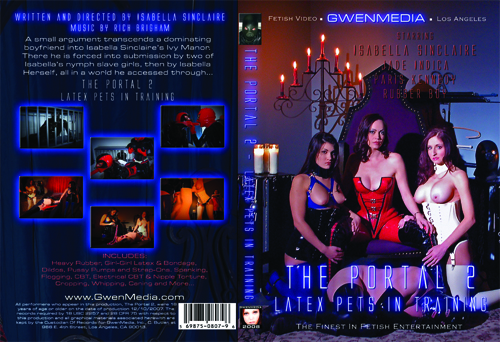 In the current issue of AVN, The Portal 2 is ranked at #32 in their top 75 specialty DVDs. Here's a recent review by an independent critic, Josh Haney:
"Latex, in the hands of most adult fare, means that the actress is wearing rubber thigh highs or possibly being painted with liquid latex.  While this is fine and good for the normal triple x crowd, for those of us with a darker side, this is a tease, scratch that, a cop out.  Now, if you pick up a DVD case, see the words HEAVY RUBBER and notice that in most of the pictures the participants are encased, head to toe, in that sensuous material, you are in for something far different from the vanilla antics of performers playing at these types of scenes.  This being said, The Portal 2: Latex Pets In Training is hardcore fetish action for avid enthusiasts and a stunning example of actual techniques for newly initiated devotees.
While out driving with his girlfriend, an argument sends a man tumbling into the world of Ivy Manor, a place few have ever been privileged enough to see, full of pleasures of the flesh and intoxicants of the mind.  Trapped in a cage, encased in latex, he watches as two of Mistress Isabella's submissive playthings pleasure each other before his eyes.  We are treated to all sorts of debauchery, from bondage and crops to things better left seen than said here in mixed company.  And after they're finished with each other, it's his turn to feel the cruel hand of the Mistress, tortured until he cannot stand any more, at which point being released back into his pathetic little life.
As I stated above this is NOT pornography playing at the BDSM scene, where the female leads get playfully swatted at before having sex with a guy in a leather vest (come on, we've all seen this tripe).  Instead, these are the kind of scenes one would expect to find at a high-class establishment that specialized in real training for a well paying clientele, the kind of places you read about but never truly expect to find.
As with all of Gwen Media's releases, production values are excellent.  Crisp and clean images with multiple camera angles allowing you full view of the proceedings (no shot on video garbage here) with close-ups that make you feel as if you're there.  The costumes, toys and gear are all top notch, a dungeon environment any aspiring Master or Mistress would be envious of.  This goes to show how a company can corner the market if it focuses on what it knows and does that with style and intelligence.  Isabella Sinclaire is known throughout the community as a talent to be reckoned with, and The Portal 2 emphasizes this point perfectly.  This is quality erotica that would please even the Marquis de Sade, bless his filthy little soul.
If your looking for fetish entertainment, don't bother with films that promise a lot and leave you feeling gypped, enter the world of Ivy Manor, you'll be thankful you did."
Thanks, Josh! Glad you liked the film. The Portal 2 – Latex Pets in Training is available now on DVD at the GwenMedia.com store.