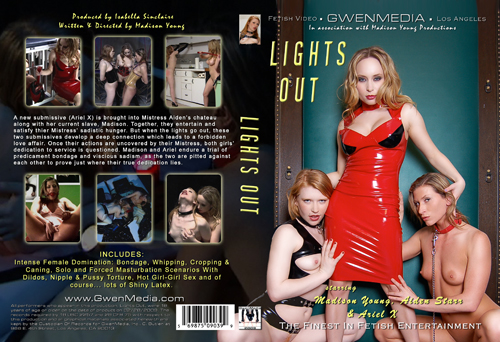 This week we celebrate the release of our new DVD, Lights Out, written, directed by, and starring Madison Young.
A new submissive (Ariel X) is brought into Mistress Aiden's chateau along with her current slave, Madison. Together, they entertain and satisfy their Mistress' sadistic hunger. But when the lights go out, these two submissives develop a deep connection which leads to a forbidden love affair. Once their actions are uncovered by their Mistress, both girls' dedication to service is questioned. Madison and Ariel endure a trial of predicament bondage and vicious sadism, as the two are pitted against each other to prove just where their true dedication lies.
In this 8 minute scene from the DVD: After lights out, slaves Madison and Ariel begin to tell each other of how they became interested in the BDSM lifestyle. We flash back to Ariel's first BDSM experience, where she masturbates in her new latex, while browsing the Stockroom catalog.
DVD INCLUDES: (Run Time: 1 hour 10 minutes)
Intense Female Domination: Bondage, Whipping, Cropping & Caning, Solo and Forced Masturbation Scenarios With Dildos, Nipple & Pussy Torture, Hot Girl-Girl Sex and of course, lots of Shiny Latex.
Watch The Trailer Inside