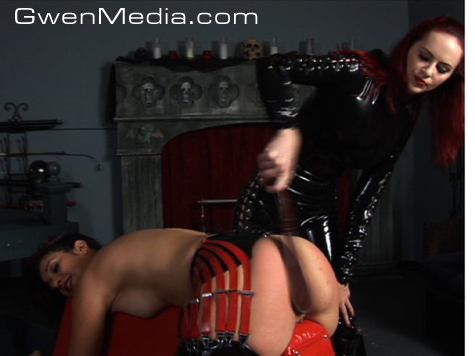 Our last two member's video updates featured these two beauties in solo masterbation scenes. Now they are together in sexy latex fetish for this exclusive spanking video, as January receives punishment for having an orgasm without permission. Will she ever learn?? We hope not!!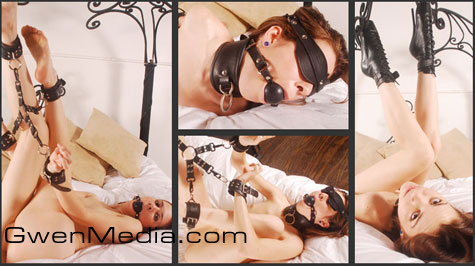 Our lovely GwenMedia Girl, Isobel Wren is bound and struggling in our bed in this week's member photo update. See as she squirms and poses, trying to escape her hog-tie restraints… only to lace up her ballet shoes and pose for you a bit more.
And this week we change the streaming video to Crimson Mansion 2, The New Recruit, starring Jean Bardot, Sandra, Victoria Channing, Charlotte Kelly and Paige Richards. Part Two of the series finds Brianna inspecting a new recruit. Both the new recruit and Maria, Brianna's personal servant, are given a special treatment in the medical room. Tubes and catheters are inserted for proper training and punishment. Maria's punishment is especially tormenting, as she is forced to endure a long session of punishment for causing her Mistress distress. Severe bondage, cages, hoods, inflatable suits and medical scenarios are very prevalent in this highly dramatic, latex-filled production. This video is also for sale at the GwenMedia.com store.