It's never a dull week at GwenMedia's studios, this week is proof of that. Yesterday, both Ashley Renee and January Seraph we in for a member photo and video shoot, and having never met before, these two worked great together. Three very latex fetish and bondage oriented sets were produced and we hope to have the first set or video as a member's update in the coming weeks.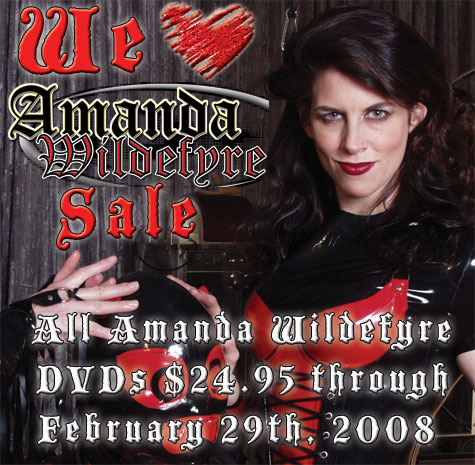 Always dressed to kill and putting Her slaves in unique latex and bondage predicaments, Amanda Wildefyre remains a GwenMedia fan favorite. This month we are celebrating Her with our We Love Amanda Wildefyre Sale. Now through February 29th, all GwenMedia DVDs featuring Amanda Wildefyre are on sale for $24.95. With popular titles like Rubber Doll Factory, Rubber Ponies, and the recently added Head Games, now is the time to complete your Amanda Wildefyre collection. Visit the GwenMedia.com store now!
As we are completing the final technical touches necessary for the new member's only Live Latex Chat, we are happy to announce that Ivy Manor 5 – Rubber Dreams star, January Seraph will be the first GwenMedia girl scheduled. We hope to have a date within the coming week, so check back soon for further updates.
GwenMedia's next DVD release, The Portal, is in the final phases of editing and post production. We expect the DVD to be finished and for sale by the end of the month and are planning to screen scenes from the final edit at club HELL in Hollywood on February 27th. On a side note, the promoters of Club HELL and Bondage Ball are launching a new club, Sin-ergy, tomorrow, February 7th, also located in Hollywood. Next week at Sin-ergy, on Valentine's Day, GwenMedia is giving away a copy of Isabella's Toy to the winner of their Best BDSM Couple Contest. We hope you can make it.
This coming Spring, Isabella Sinclaire will be welcomed at Special Guest of Honor at BoundCon 08 in Munich, Germany. From May 30 through June 01, She will once again represent GwenMedia and Ivy Manor Videos and is also scheduled to perform on stage. So get mark your calendars and we'll see you in Munich this May!
For additional information on these topics and more, check out Isabella Sinclaire's Monthly Newsletter.