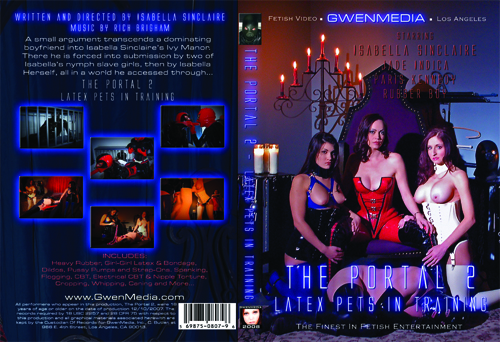 The Portal 2 – Latex Pets In Training is now available for sale at the GwenMedia.com store. A small argument transcends a dominating boyfriend into Isabella Sinclaire's Ivy Manor. There he is forced into submission by two of Isabella's nymph slave girls, then by Isabella Herself, all in a world he accessed through… THE PORTAl 2.
Includes: Heavy Rubber, Girl-Girl Latex & Bondage, Dildos, Pussy Pumps and Strap-Ons. Spanking, Flogging, CBT, Electrical CBT & Nipple Torture, Cropping, Whipping, Caning and More.
The latest edition of the popular Portal Series, begins with nearly 30 minutes of hot girl-girl latex action with Paris Kennedy and Jade Indica (Diary of a Rubber Girl), each putting the other though the paces with bondage, inflatable dildos, strap-ons and much more, all while the dominating boyfriend, sporting a pig's hood, looks on from his nearby cage.
After the girls have their way with each other, Mistress Isabella has the girls practice their slave training on the hooded slave in Her dungeon. There he undergoes a series of torments including, bondage, CBT, flogging, cropping, caning, nipple torture and electrical play.The girls then suspend their new guest upside down, and continue their practice until Isabella enters the scene to dominate them all. With all 3 slaves now suspended, Isabella flogs the girls in rotation until She's satisfied.
Watch the Windows Trailer.
Watch the iPod Trailer. 
And coming VERY SOON… GwenMedia's Portal series continues with more rubber doll transformation in The Portal 3 – Steffy's Rubber Adventure, featuring Steffy The Rubber Doll.