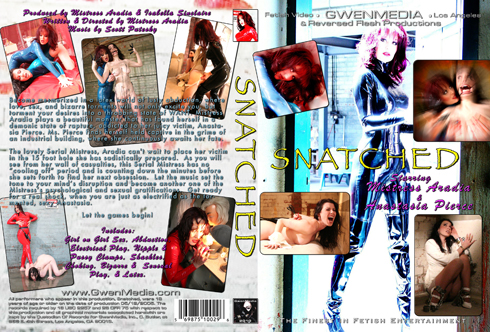 Become mesmerized in a latex world of lusty abduction, where love, sex, and bizarre torments will not only excite you, but torment your desires into a throbbing state of WANT.  Mistress Aradia (Sessions 13, Sexual Slavery, Enclosure)  plays a beautiful monster that has found herself in a demonic state of rapture, addicted to her juicy victim Anastasia Pierce (Mind Control, Part Time, Sessions). Ms. Pierce finds herself held captive in the grime of an industrial building, where she continuously awaits her fate.
The lovely Serial Mistress, Aradia can't wait to place her victim in the 15 foot hole she has sadistically prepared.  As you will see from her wall of casualties, this Serial Mistress has no "cooling off" period and is counting down the minutes before she sets forth to find her next obsession.
Let the music, written by Scott Putesky  (aka Daisy Berkowitz from Marilyn Manson) set the tone to your minds disruption and become another one of the Mistress's psychological and sexual gratifications. Get ready for a real shock, when you are just as electrified as the tormented sexy Anastasia.
Watch the TRAILER below and let the games begin!