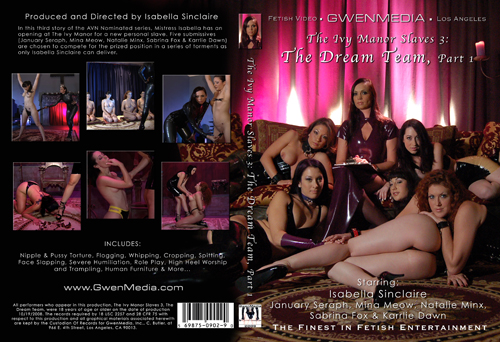 "A whipping fetishist's delight"
In this third story of the AVN Nominated series, Mistress Isabella has an opening at The Ivy Manor for a new personal slave. Five submissives (January Seraph, Mina Meow, Natalie Minx, Sabrina Fox & Karrlie Dawn) are chosen to compete for the prized position in a series of torments as only Isabella Sinclaire can deliver. In part 1 of this 2 part story, Isabella displays her whipping skills on each beauty, then verbally assaults them each in a round of humiliation.
INCLUDES: Nipple & Pussy Torture, Flogging, Whipping, Cropping, Spitting, Face Slapping, Severe Humiliation, Role Play, High Heel Worship and Trampling, Human Furniture & More…
Coming Soon: Part 2 of this story, which includes nipple and pussy torture, caning and an erotic 5 girl tongue bath on Mistress Isabella.