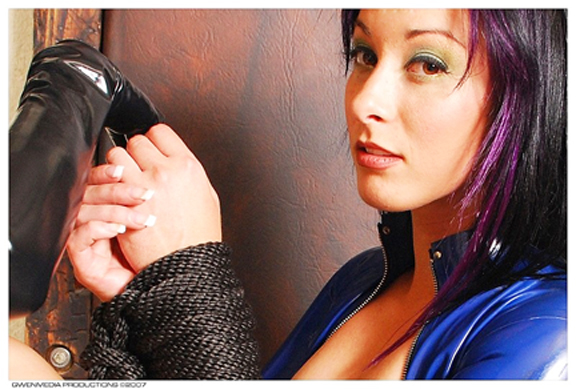 Mistress January Seraph is a world-renowned fetish performer, Pro Dominatrix, and creator of first class fetish entertainment. This raven haired beauty is the epitome of the ultimate fetish fantasy. Smart, strong, sensual and sadistic she brings a keen intelligence to all her roles.
A self-described "Mercurial Cunt", Mistress January first exploded on to the screen as a bottom (see Gwen Media's "Isabella Torments January"). Later she found her dominance becoming one of the most recognizable and dynamic faces in the world of kink.
Handling aspects on both sides of the camera, Mistress January has worked on hundreds of various types of fetish productions. She is also an innovator on the web with her latest venture Seraph OmniMedia, LLC (www.SeraphOmniMedia.com). Seraph OmniMedia is involved in video end of production, developing creative membership sites and web development projects (cunts.com). Mistress January is also dedicated to giving back to the adult community by "establishing a non profit organization to help improve the lives of adult performers" through Seraph OmniMedia.
You can see Mistress January Seraph throughout our Members Only area or in the classic AVN Award winning series Gwen Media productions "Dream Team Parts 1 & 2" (found HERE), "January and Ashley: Playtime" and "Live from Hell Club."
Check out Mistress January at www.JanuarySeraph.com and www.SeraphOmniMedia.com
Contributed by: slave boy julia