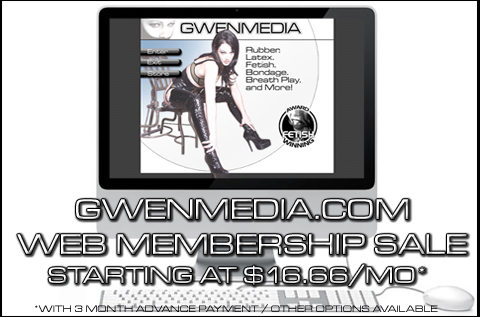 Now is the time to take advantage of membership to GwenMedia.com and DominationOnLine.com as we offer web memberships lower than ever before.
Nowhere else on the web but GwenMedia.com will you find our award winning films in full length, and other weekly member updates of exclusive latex video and photo sessions, as well as, sneak peeks of unreleased DVDs.
And only at DominationOnLine.com will you find Isabella Sinclaire's archive of live sessions, exclusive photo galleries, video clips and more, all under one roof.
Sign up now at $19.95 for your first month and pay only $16.95 each additional month. Or pay 3 months in advance at $16.66 per month.
So if you enjoy beautiful latex-clad girls in sexy scenarios or prefer to be dominated by the beautiful Isabella Sinclaire, sign up now to GwenMedia.com and DominationOnLine.com and take advantage of this great limited time offer!