We recently added the classic trailers to two catalog titles, Fetish Girls and Rubberella Steel Chamber.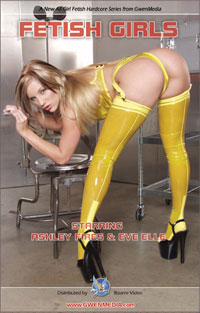 Fetish Girls Review: Artistic lighting serves to accentuate the magnificent curves of two knockout performers in this excellent fetish offering. Ashley Fires is a vision in her yellow rubber bra, panties, garters and stockings. Watching her masturbate is a nearly religious experience. When Eve Elle joins the party, the temperature in the room shoots up past the boiling point. She wears the same ensemble as Fires, but in a luscious, shiny red. The head to toe lip attention she shows Fires is absolutely mind-bending. Sparks are generated when these women touch. Their bodies practically glow as they lick each other. After a long, languorous session of pussy eating and dildo play, both girls do a fabulous strip tease and costume change. Elle ends up in a tight black corset, while Fires is wet sex personified in a fantastic rubber dress. The sequence that follows, with a blindfolded Elle exploring all of Fires' tender places, is astounding.
Visit the GwenMedia store to watch the newly added Fetish Girls trailer.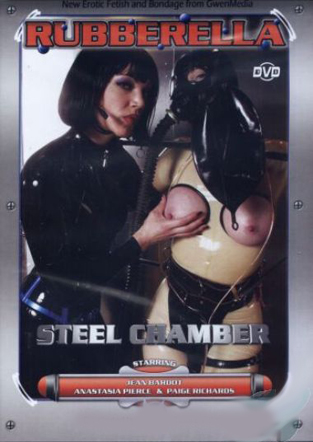 Steel Chamber Review: The first volume in a promising science fiction saga, this film features superior lighting, staging and performances. The alluring Jean Bardot strikes an intimidating pose as Rubberella, a fetish queen who rules a post-apocalyptic world. Anastasia Pierce and Paige Richards are acolytes who attempt to turn the tables on their leader. Capturing Rubberella, they toss her into her own conditioning chamber. Down on her knees in a cramped Plexiglas box, she swears revenge. Bearing her teeth and struggling in her skintight black rubber outfit, she is sex defined. Of course, she does escape, and the acolytes suffer her wrath. Hung from hooks and smothered in inflatable rubber bags, buckled tight and wrapped in rubber masks, tortured, taunted and fondled, these girls are terrorized in so many exciting and creative ways. High quality camera work serves to highlight the shining beauty of the costumes and devices, not to mention the magnificent curves of the performers. Throw in some clever post-production touches and the result is a breathtaking fetish offering.
Visit the GwenMedia store to watch the newly added Steel Chamber trailer.