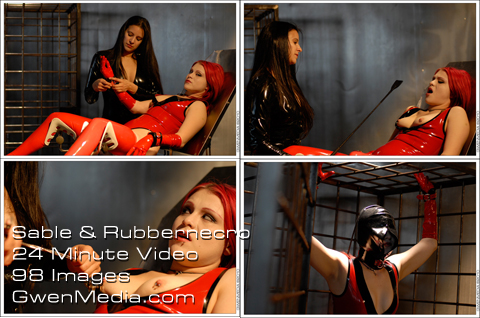 Alone and playful, new GwenMedia Girl, Rubbernecro, dances about the medical chair, imagining the possibilities. As if her wishes are granted, Mistress Sable (Portal) enters the room and our sexy new red-head soon finds herself bound to the chair, just as she imagined. Sable caresses her subject, exposing her breasts and toys with her nipples, adding clamps for further amusement. With a slight pull, Rubbernecro reacts to the pain… and the pleasure.
After removing the clamps, Sable brings her Violet Wand to the table. It's glow is captivating. It's touch is unique… painful, yet enticing, as Rubbernecro shows. Seeing how her subject enjoys this, maybe too much, Sable picks up her riding crop and exchanges the pleasure for pain. All pleasure has a price.
After the tormenting, Sable adds an inflatable hood to her submissive's attire. Once inside the cage, the hood is sealed and inflated. With her senses gone, Rubbernecro's arms and legs are bound to the cage and her collar is chained from above. Sable shuts the cage and leaves the room. Our new girl is left with her thoughts… thoughs of dancing about the medical chair, imagining the possibilities.
Watch a free clip HERE.
Includes: Latex Fetish, Light Bondage, Nipple Torture, Cropping, Violet Wands, Inflatable Hoods