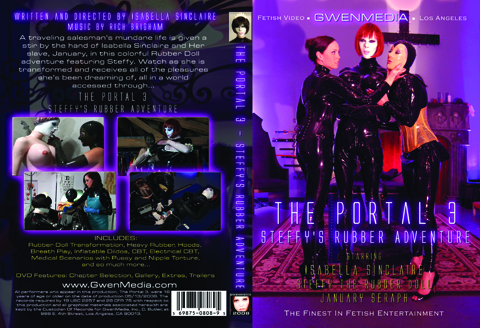 This week we bring the latest installment to our double AVN nominated series and release, The Portal 3 – Steffy's Rubber Adventure.
Written and directed by Isabella Sinclaire, The Portal 3 is a story about a traveling salesman's mundane life, which is given a stir by the hand of Isabella Sinclaire and Her slave, January, in this colorful Rubber Doll adventure featuring Steffy. Watch as she is transformed and receives all of the pleasures she's been dreaming of, all in a world accessed through… The Portal .
The Portal 3 stars Isabella Sinclaire, January Seraph and Steffy The Rubber Doll and is also available for sale at the GwenMedia.com store.
INCLUDES: Rubber Doll Transformation, Heavy Rubber, Hoods, Breath Play, Inflatable Dildos, CBT, Electrical CBT, Medical Scenarios with Pussy and Nipple Torture, and so much more…
Watch the trailer HERE.