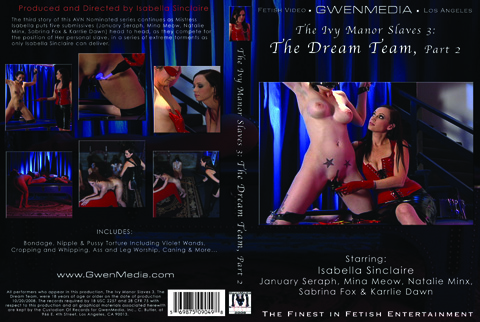 This week, and by member request, we bring you Part 2, the conclusion, of our AVN Award Winning Film, Ivy Manor Slaves 3, The Dream Team.
The saga continues in Part 2 of this AVN Nominated story, The Dream Team, from The Ivy Manor Slaves series. We join Isabella Sinclaire and her 5 eager to be personal slaves in the middle of a fierce competition for this much sought after position. From the harsh torments of nipple and pussy torture and caning, to the gentler sides of ass and leg worship, the girls in this video are pushed to their extremes.
We begin with each slave girl, January Seraph, Mina Meow, Natalie MInx, Sabrina Fox and Karrlie Dawn, all going through a session of nipple and pussy torture at the hands of the lovely Mistress Isaballa. Each girl kneels on the bondage table and is bound to a suspension bar from above and a spreader bar attached to their knees, keeping their thighs open and available for Isabella's amusement.
Though each girl is given a similar predicament, each reacts in their own special way. As Isabella picks up on this, she retorts actions that test the girls' individual weaknesses. We see January's nipples and pussy being tortured with a violet wand, Mina's pussy being flogged while clamped with multiple clothes pins, Sabrina's nipples clamped and weighted, Natalie's breasts, pussy and inner thighs assaulted with clothes pins and a crop and Karrlie's senses teased with a violet wand, while blind folded.
The girls then see the lighter side of being in Isabella's stable, as they are told to worship her ass and legs while she takes a nap. This scene is slow and sensual over an exotic piece of music. Each girl, stripped of any clothing, devotes herself entirely to please their Mistress with their tongues and kisses. Any foot or leg fetishist is sure to play this scene over and over.
Watch the trailer HERE.