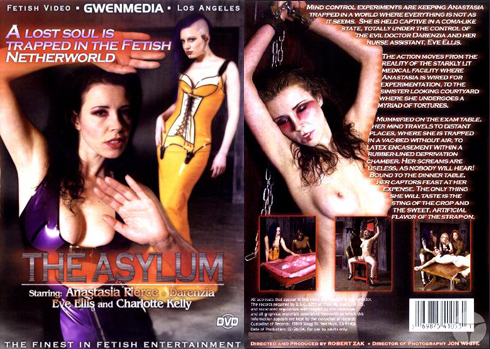 Mind control experiments are keeping Anastasia trapped in a world where everything is not as it seems. She is held captive in a coma-like state, totally under the control of the evil doctor Darenzia and her nurse assistant, Eve Ellis.
The action moves from the reality of the starkly lit medical facility where Anastasia is wired for experimentation, to the sinister looking courtyard where she undergoes a myriad of examinations.
Mummified on the exam table, her mind travels to distant places, where she is trapped in a vac-bed without air, to latex encasement within a rubber-lined deprivation chamber. Her screams are useless, as nobody will hear! Bound to the dinner table, her captors feast at her expense. The only thing she will taste is the sting of the crop and the sweet, artificial flavor of the strap-on, caged, gagged, hooded, and bound, Anastasia seems to give in to her inner desires, as she is prepared for further experimentation. Time will only tell. Mummification, hoods, gags, latex, sensory deprivation, flogging and strap-on action! You'll be watching this one more than once!